Uzbekistan - Best destination in 2022
« Back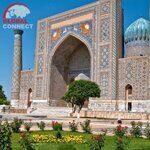 Uzbekistan - Best destination in 2022
04.01.2022 19:07
The famous British "The Independent" last edition recently published a list of the best places to travel, with the relaxation of quarantine restrictions.
Uzbekistan entered the top ten best places to travel around the world in 2022. The Normand Islands, Northern Ireland, Canada, Spain, Italy, Turkey, Egypt, Bhutan shared the list of destinations with our country.
The author of the article, Helen Coffey, describes Uzbekistan as "a very intriguing country located in the center of the Silk Road." Even before the pandemic a few years ago, Uzbekistan abolished the visa regime for British citizens, and holders of British passports with a negative test for coronavirus can stay in Uzbekistan without a visa for up to 30 days.
When traveling in Uzbekistan, the author of the article suggests visiting the "Lazgi Festival (dance) in Khiva in April; Stihia Festival (electronic music) in Moynaq in May; Lavender Festival in Kokand in June; Sharq Taronalari (world music) in Samarkand in August; Silk Road Literature Festival in Tashkent and Bukhara in September; International Festival of Handicrafters in Kokand in September; Tashkent Film Festival in September and many others.