Pakistani airline to launch regular flights to Uzbekistan
« Back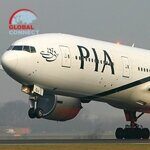 Pakistani airline to launch regular flights to Uzbekistan
16.12.2021 13:19
Flights from Islamabad and Karachi to Tashkent are planned to be launched in January next year.
Pakistan International Airlines announced plans to establish regular flights on the Islamabad-Tashkent and Karachi-Tashkent routes. This became known at a meeting of representatives of the Ministry of Transport with representatives of the Pakistani Embassy in Uzbekistan and the leadership of the airline PIA.
The representative of the airline "PIA" in Uzbekistan, Mohammed Vakkos, said that flights in these directions are planned to be launched from January 2022.
During the meeting, representatives of both sides emphasized that the development of cooperation between Uzbekistan and Pakistan in the field of civil aviation meets the interests of both countries.